Math Kits for Classrooms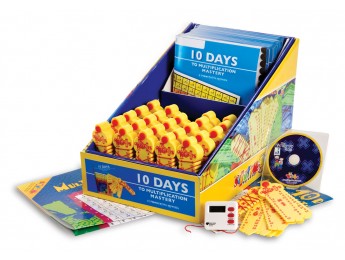 This kit contains all the same products as our 10 Days Class Kit, but comes with 30 sets of Wrap-ups and 30 student workbooks instead of 25.
Class sizes are creeping back up and 30 might be a better number for your class or After-School Program.
Learn More
Our 10 Secrets to Addition Mastery Class Kit for 30 comes with 30 sets of Wrap-ups, 30 student workbooks, a Wrap-up Rap Addition Audio CD, stop watch and a 17 x 22 class recording chart.
The 62-page Student Workbook includes easy to follow day by day activities that emphasize conceptual understanding, Commutative Properties, Meaningful Practice, and recording charts to illustrate that students have learned more than they thought. The combination of Wrap-ups and these workbooks keep students wanting to learn.
Learn More